Finishing Touches
1999 CIMP Records
Songs
1. Angel Eyes
2. In A Quarter Tone
3. Ode To Eric
4. All The Things You Are
5. Ballad For Carol
6. Calypso In The Foruth Dimension
7. Bass Relief
8. You'd Be So Nice to Come Home To
9. Falling Grace
Musicians
Dom Minasi guitar, Bocchicchio bass and Jay Rosen drums
Produced by Dom Minasi
Recorded by Marc D. Rusch at The Spirit Room, Rossie, NY on February 22 and 23 1999.
"It seems the guitarist has expanded his horizons and forged a path that takes him just off the beaten path".
Steven Loewy
All Music Guide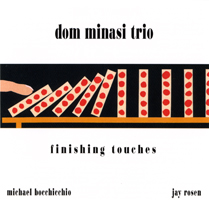 Click here to read reviews of this CD
My first outing as a leader in 24 five years. I wanted to do something different and record music that reflects who I am. Again some problems with the sound that weren't solved the first night. The next day finally resolved it and we finally were able to just play. We recorded a lot of music that day, at least 40 minutes more than was released on the CD, and the CD is 74 minutes long. I was basicially happy with everything except that when the CD came out the volume was too low.