Pays Tribute To John Lennon
Ron Aprea
2015 Early Autumn Productions
Songs
_1. It Be sample
_2. Imagine
_3. Yesterday
_4. Here There and Everywhere
_5. Fool On the Hill
_6. Something
_7. Happy Christmas
_8. Norwegian Wood
_9. Blackbird
10. Whatever Gets You Thru the Night
11. Can't Buy Me Love
12. Goodnight
Musicians
Cecilia Coleman piano
Tim Givins bass
Vince Cherico drums
George Hooks percussion
Bob Millikan trumpet
Steve Greenfield alto sax
Frank Perowski tenor sax
Marc Schwartz tenor sax and flute
Matt Aprea violin
Maria Im viloin
Carrie Davids viola
Brett Walfish viola
Sam Quiggins cello
Soloists
Ron Aprea alto/soprano sax
Brian Lynch trumpet
Matt Aprea violin/viola
Steve Madaio trumpet
Dom Minasi guitar
Angela DeNiro vocalist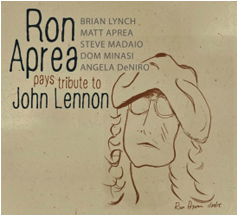 In 1974, Ron worked with Lennon on his Walls and Bridges album. Ron now pays a long-overdue tribute to the musical genius of John Lennon.
On Lennon's Walls and Bridges album, John used 5 horns, dubbing them "Little Big Horns."
Ron's tribute also includes a horn section, along with a string ensemble, and added guest soloists.
The guest artists include trumpeter extraordinaire Brian Lynch, virtuoso violinist Matt Aprea, jazz guitar veteran Dom Minasi, and a cameo performance by jazz vocalist Angela DeNiro.
Another special guest is trumpeter Steve Madaio, a fitting addition to this album, as Steve was also a member of the Walls and Bridges' Little Big Horns.
This collaboration is a mystical moment on this tribute, as Steve and Ron reunite in a heart-felt tribute to their former bandleader, with a stunning rendition of Lennon's "Imagine".